THE GRANITE COMPANY
GRANITE WORKTOPS, BEAUTIFULLY FINISHED.
THE GRANITE COMPANY
GRANITE WORKTOPS, BEAUTIFULLY FINISHED.
GRANITE WORKTOPS, BEAUTIFULLY FINISHED…
The Granite Company was founded in 1992 as a branch of Worcestershire Marble Ltd and its reputation for quality workmanship and excellent service has continued to grow over the years.
At our large factory in the Midlands we hold extensive stocks of Quartz, Granite, Marble, Technical Porcelain, Slate and Limestone. It is here that we combine the accuracy of state of the art CNC machinery with traditional hand finishing to work many different types of stone'  which is then fitted nationwide.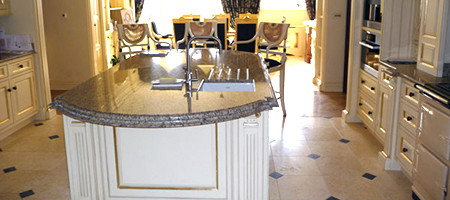 Granite is extrusive rock formed from cooled magma. Due to its natural origin, Granite has unique colour, character and beauty. This makes it a good choice to those who prefer a purely natural material with its breathtaking beauty and natural patterns.
Granite is a good choice for someone who prefers fully natural material with its genuine beauty and patterns and huge variety of colours. The natural stone look can be used in Contemporary, Classic or modern situations.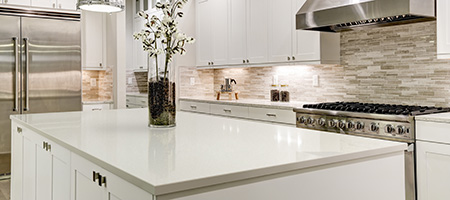 Quartz is a manmade product which gives a fine alternative to natural materials like Granite. This manmade material contains 93% of natural minerals. When comparing Granite and Quartz worktops, their qualities are rather similar, but not identical.
Quartz is a uniform structure and extensive selection of colours that allows designing a personalised kitchen. With an array of colours and shades quartz which includes the growing popularity in the newer natural looking ranges giving a more authentic natural stone look. With options to look like marbles (which are not suitable for kitchen worktops)  like Carrara, Calacatta and Statutario but with the durability of an engineered stone.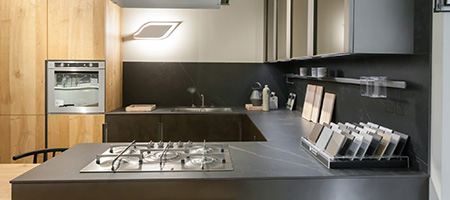 Ceramics are a new option to worktop market. Ceramics are made of 100% natural components. Highly valued by designers and stylists in modern home interior design.
With material thickness of 6mm and 12mm this makes the material lighter than alternatives and is possible to match worktops with floor and wall cladding. The materials are available in polished, natural or textured finishes.  With a wide range of colour options including  a more natural look than Quartz, the colours highlights the core characteristics of Nature. The colours and veined patterns follow the characteristics of natural rock formations in perfect harmony and true elegance.